Every person who sees an occupational therapist and physical therapist/physiotherapist has always doubted " What is the difference between OT and PT". Both the therapies may seem similar to you and there could be a possibility that you are not able to find any difference in the activities of an OT and PT. But there's a lot of differences between them. They have different goals and different approaches. If you have ever the same doubt then you have landed on the right page. Today we are going to learn the difference between both therapies.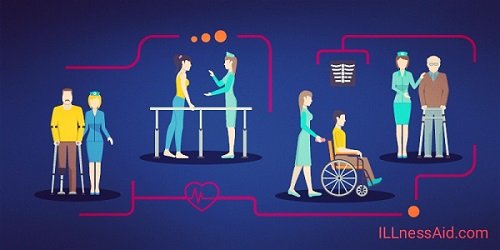 KEY DIFFERENCES BETWEEN OT AND PT
An occupational therapist improves the patient's ability to perform activities of daily living(ADL) whereas a physiotherapist improves patient's ability to move their body with less pain.
Occupational therapist more focus on small muscles that help patients to improve their day-to-day activities and physiotherapist more focus on large muscles to strengthen the muscle that will help in mobility.
Let's understand this with an example A patient who has paralysis in the right arm. In this condition, A Physiotherapist will improve their joint mobility, muscle strength, increase flexibility, etc., and An occupational therapist will improve hand function, give an assistive device that helps the patient in daily tasks, and many more things. For getting more information about both of them let's discuss separately:
OCCUPATIONAL THERAPY
An occupational therapist helps in daily activities by adapting and modification to what a person needs or wants to do. OTs do many works to make patients functional independent like doing functional analysis, using play therapy, making assessments, using adaptive equipment( In which patients are not able to initiate their work), modifying the environment, and training with assistive tools, etc.
OTs always try to get maximum performance of patients with a science-based approach. In occupational therapy, The therapist always evaluates the patient very carefully and adapts according to the patient's will. Occupational therapy can be given who has a problem in:
Cognitive skills
Fine motor
Stroke
Brain injury
Poor balance
Mental health
Spinal cord injury
Cancer
Mental health, etc.
PHYSIOTHERAPY / PHYSICAL THERAPY
A physiotherapist improves patient quality of life with prescribed exercises, patient education, and many techniques. The benefits of physical therapy include:
Regain movement of own body
Pain management without need for opioids
Aviod surgery
Improved mobility and movement
Recovery from injury or trauma
Educate about fitness
A Physical therapist uses many technologies and techniques on patients like stretching, manual technique, hot and cold therapy, massage, ultrasound, dry needling, etc. We can see a physical therapist in many areas including clinics, offices, hospitals, schools, gyms, stadiums, etc. They can treat a wide range of medical conditions:
Musculoskeletal conditions such as rotator cuff injury, back pain
Cardiopulmonary condition like myocardial infarction, COPD
Neurological problems like stroke and spinal cord injury
Pediatric condition like spinal muscular dystropy
sports related injuries like golfers elbow
OT AND PT BOTH HELP US TO PROMOTE OUR HEALTH SO GO TO THE THERAPIST IF NECESSARY.
Thank you for reading this far. Today we talk about the difference between OT and PT and also discuss separately, I hope you like it. If you have any queries related to this you can comment below and if you want to contact then go on the contact us page.