Tailor's bunion is a bony prominence of the fifth metatarsal head, associated with overlying corn and bursitis. It is also known as Bunionette. There are many common causes for this bunion are: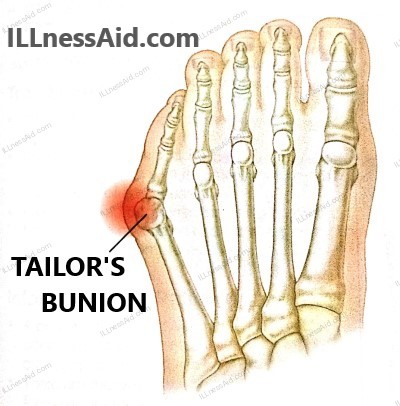 Sporting activities like long-distance running
Idiopathic
Biomechanical causes
Rheumatoid arthritis
Incomplete or failed development of the intermetatarsal ligament
ICD-10-CM CODE
M21.62X – TAILOR'S BUNION / BUNIONETTE
HISTORY OF TAILOR'S BUNION PATIENT
Now there are very similar histories for tailor's bunion patients that we will discuss. So that we can move one step forward to understanding the Tailor's bunion:
It is very common abnormality but majorly it is asymptomatic
Symptoms present from adolescence to middle age
Pain around the fifth metatarsal head
Symptoms increase with constructive footwear
Patients may report a history of corn in the affected area
History of predisposing features like altered sensation, increased activity, restrictive footwear, etc
Patients may show a history of skin color changes, swelling, ulceration, etc.
EXAMINATION OF TAILOR'S BUNION
1. PHYSICAL EXAMINATION
A. Observation
Gait may be disturbed
Show bony prominence of the fifth metatarsal head
The size of the protuberance may be increased by the inflammation and hypertrophic bursa
Observe for predisposing deformities of the foot
B. Palpation
Tenderness will present directly on the fifth metatarsal head or plantar lateral
The Head of plantar metatarsal fat may be atrophied in some conditions like diabetes
C. Range of motion
The fifth metatarsophalangeal joint will subluxate or dislocate
D. Special tests
Neurovascular examination
Carefully examination for ulcers and chronic examination
2. IMAGING
Radiographs examination with the help of X-rays
Magnetic resonance imaging may be useful
A dual CT scan may be useful if suspect of gout
TREATMENT FOR TAILOR'S BUNION
1. CONSERVATIVE
FOOTWEAR: We can use a wide, deep-toe box and semirigid shoes without heels. Padding can also be adjusted for the tailor's bunion deformity.
ORTHOSES: We may include hindfoot orthoses(corrective) if the pathology is secondary. Midfoot and forefoot orthoses can also be used.
CHIROPODY: You should go to good practitioners, That will help you with pain management and symptomatic relief.
ANTIINFLAMMATORY MEDICATION: Analgesics are mainly used as a first-line treatment. Nonsteroid anti-inflammatory drugs may decrease the duration of exacerbation of inflamed structures (bursa).
2. SURGICAL
For patients in which conservative treatment fails then surgical treatment is the option. It includes head resection, exostectomy, and a variety of metatarsal osteotomies. After the surgery patient may able to fully weight bear in stiff-soled(post-operative shoe) immediately. They have to continue these shoes to wear for 6 weeks(it can vary).
3. EXERCISES
The muscle around the little toe is the "abductor digiti minimi". This muscle can help reduce the progression of this tailor's bunion. If you do regular exercise this muscle then it can prevent this deformity and also help in treating the bunion.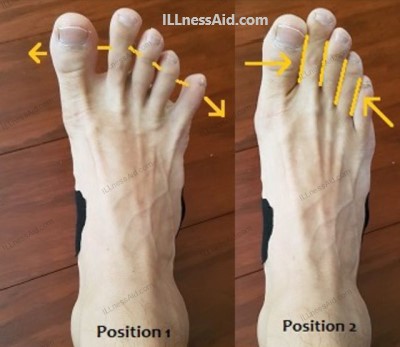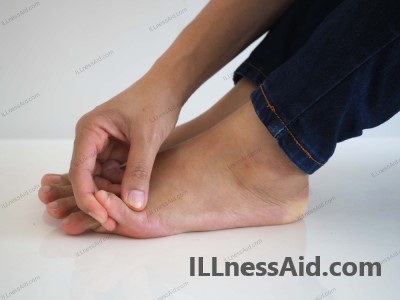 Use a theraband/cloth/finger to pull out your toe out and up(as in the figure) then press down
Do these 4-5 lifts several times a day.
INFORMATION FOR PATIENTS
A bunionette/tailor's bunion is relatively common that is often mostly idiopathic but may associate with other generalized systemic diseases.
There are many good and successful conservative therapies, you should look for them.
Mode surgeries have a high chance and are also good, you should believe in doctors. The complication rate depends on the patient's general health.
THINK, STAND, DO ARE THREE STEPS TO DO ANY WORK

ILLnessAid
Thank you for reading this, today we talk about tailor's bunion and its treatment, exercises, and more. if you have any doubts regarding this then you can comment below or go to the contact us page.