Supracondylar fracture of the humerus is common in children due to the "weak bony architecture of that area in children". Mechanism of injury and many other factors exploit this weakness and break it more often than other bones in children.
Fall on outstretched hands is the most common mechanism of this fracture. If a person falls on the outstretched hand with hyperextension elbow ( with abduction or adduction also), with dorsiflexion hand, this fracture is prominent to supracondylar. We can also say that this fracture is more common in boys because they are more mischievous and prone to falls. For understanding the position we talk about, you can see the image below.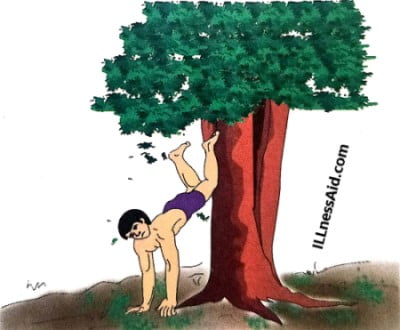 CLASSIFICATION
Supracondylar fracture is more common on the left side (58%) than the right side (42%) due to the simple reason of dominance hand. This fracture is broadly classified into two types:
EXTENSION TYPE: In this fracture, the fracture line goes upward and downward, and this fracture is more common (98%).
FLEXION TYPE: In this type, the fracture line goes downward and forward, and this is less common (2% only).
Now, both types of fracture you are able to understand with the image(above) clearly. But there is also a subtype classification of extension type according to the "displacement of the distal fragment". This subtype classification is also known as "Gartland's classification".
TYPE I: Undisplaced fracture
TYPE II: Displaced fracture, but posterior cortex is intact
TYPE III: Displaced fracture, but no intact, posterior cortex and some degree of rotational displacement
TYPE IV: Complete displaced fracture
CLINICAL FEATURES
In the supracondylar fracture, the patient will complain of pain and swelling. There is also can be seen as an S-shaped deformity of the upper limb and loss of movement of the elbow. We can also see nerve injury-related symptoms like tingling pain. Patients can also complain of pseudo paralysis arm. So we should also check by tests whether nerves are involved or not. These are other clinical signs of the supracondylar fracture:
An arm will be short than a nonfracture hand and the forearm will normal in length.
Crepitus will present and should not check because of increasing pain and damaging the neurovascular structures.
There will present dimple sign due to the spike of the proximal fragment penetration.
The "soft spots" will effusion beneath the muscle(anconeus).
A radiological examination of the elbow is necessary. It is not just to fracture anatomy but also to study reduction methods. Because later it can lead to deformity.
TREATMENT OF SUPRACONDYLAR FRACTURE
CONSERVATIVE MANAGEMENT
Initially closed reduction and POP casting or slab try under general anesthesia by traction and countertraction methods. After this, displacements are corrected (medial and lateral first then posterior). You can also check immediately whether the reduction is successful or not by checking flexion arm and forearm length. Any deviation from the normal show incorrect deformities.
Two or three attempts can try under the same anesthesia. The elbow will be immobilized in hyperflexion because in this position triceps acts as an internal split.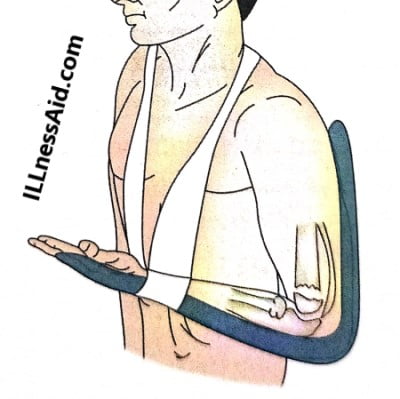 OPERATIVE MANAGEMENT
Operative management is for some difficult situations. In this method, A open reduction usually follows and internal fixation with k-wires. But nowadays closed reduction and percutaneous fixation with k-wires under c-arm control have followed because of simple techniques and high results.
TRACTION METHODS
It is not a popular method to treat supracondylar fracture of the humerus, but it shows the result in specific instances. Traction methods could be either Dunlop's traction(below elbow skin traction) or smith traction(overhead skeletal traction). Depending on the method chosen patient will have to stay in the hospital for a long period of time and need the guidance of a doctor.
COMPLICATIONS FOR SUPRACONDYLAR FRACTURE
1. NEUROLOGICAL INVOLVEMENT
In some cases nerves are also injured due to this, always check the nerve involvement. the radial nerve is the most commonly injured in this fracture.
2. VASCULAR INJURY
Vascular injury leads to Volkmann's ischemia. It is common with extension type and is usually due to brachial plexus injury(direct).
3. LOSS OF MOBILITY
It is also noted that 4 degrees of flexion are also lost. Due to the posterior displacement, which unites in that position and blocks the flexion.
4. CUBITUS VARUS
This is the most common complication in this fracture(supracondylar). It is a cosmetic disability with no functional impairment.
5. CUBITUS VALGUS
This is rare and seen in lateral displacement in the extension type fracture. It treats with medial closed wedge osteotomy.
GO TO THE DOCTOR SHOULD BE YOUR FIRST PRIORITY

ILLnessAid
Thank you for reading this far, Today we talk about the supracondylar fracture and its management, complications, and more. If you have any doubts regarding this you can comment below or go on the contact us page.