The skier's thumb was coined by Schultz, brown in 1973. The classic name for a skier's thumb is "gamekeeper's thumb". In the skier's thumb, there is an acute partial or complete rupture of the ulnar collateral ligament(UCL) in the thumb. The stability of the thumb on the ulnar side maintain by four structures: adductor aponeurosis, adductor pollicis muscle, the proper and accessory UCL, and volar plate. A UCL provides resistance to radially applied forces. So, A torn UCL weakens the key pinch grip strength with prolonged instability.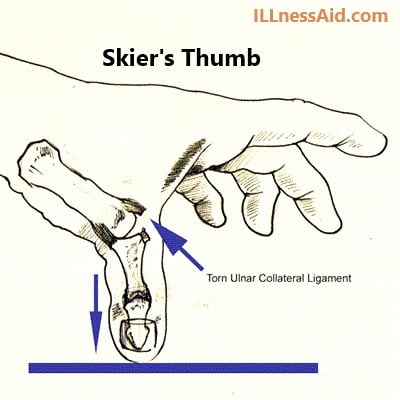 CAUSES OF SKIER'S THUMB
Skier's thumb injury does not only happen to skiers. It can occur to anyone where a valgus stress force applies to the thumb in abduction and extension or small repetitions of valgus stress force. We can see this injury in many other sports like hockey, basketball, rugby, soccer, etc. It is called skier's thumb because this injury often occurs when a person falls causing the ski pole to stress and tear UCL. If this injury is not treated properly can lead to joint instability, pain, weakness, and arthritis in MCP joint.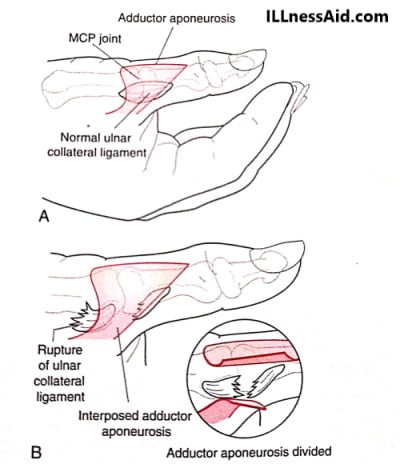 EXAMINATION OF SKIER'S THUMB
Patients with a skier's thumb have many signs and symptoms that can confirm the injury. Patients typically show:
Pain
Swelling
Frequently ecchymosis at the ulnar side of the thumb
Palpation of the ulnar side may reveal a small lump(which shows a sterner lesion or avulsion fracture)
Should have a history of valgus injury in a thumb
In addition to the plain examination, you should obtain valgus stress testing radiographs. Because patients who are acutely injured will guard against pain, So 1% lidocaine (anesthesia) should use. When a sprain or torn UCL is suspected a valgus stress test should perform. This test is assessed by valgus force at the MCP joint of the thumb in degrees of flexion. If the thumb is flexed more than 30-35 degrees then UCL is completely torn. And if it is 15 degrees then it is a normal range. Between these degrees, it will be a partial tear of UCL. let's see the below small video that shows the valgus stress test:
TREATMENT OF SKIER'S THUMB
Before we go on treatment procedures, we should always confirm the injury and examine it. For the treatment of a skier's thumb, we will divide this into two categories: Stable thumb and unstable thumb during valgus testing.
STABLE THUMB ON VALGUS STRESSING( NO STENER LESION)
The ligament is only partially torn, and healing will occur with nonoperative treatment
Thumb will immobilize for 3-4 weeks with the splint, and usually with thumb IP joint free
They should begin active and passive thumb motion at 3-4 weeks but valgus should avoid
If ROM is still painful at 3-4 weeks then you should go to the physician and he/she will re-evaluate
There is also an important thing to learn, During splint days you should remove the splint several times a day for active ROM exercises.
Grip-strengthening exercises should begin at 6 weeks( see rehabilitation program)
UNSTABLE THUMB ON VALGUS STRESSING( MORE THAN 30 DEGREES)
In this phase, It requires direct operative repair
Because 80% of patients with a complete torn are found to have a stener lesion (thus obtain poor healing results if treated nonoperatively)
So these are the treatment steps for a skier's thumb but there is a "rehabilitation protocol" that should be followed after repairing UCL. Let's discuss it so, you can follow it properly in weeks:
REHABILITATION PROTOCOL
3 WEEKS
You should remove the bulky dressing
Remove MCP joint pin (k-wire) If you are using
Use a static splint on the wrist and thumb for continual wear
6 WEEKS
You should begin active and gentle passive ROM exercises of the thumb for 10 min( each hour)
Avoid any lateral stress( valgus stress) to the MCP joint of the thumb
Use dynamic splinting if necessary to increase passive ROM
8 WEEKS
Stop using splinting. You can use short opponens type splint for sports activities
Begin strengthening exercises
12 WEEKS
You can do unrestricted activities
PLAY MANY AND MORE GAMES BUT CARING ATTITUDE IS ALSO IMPORTANT

ILLnessAid
Thank you for reading this far, Today we talk about a skier's thumb and its treatment. If you have any doubts regarding this then you can comment below or go on the contact us page.