Pronator syndrome is a less common condition. It is caused by median nerve entrapment in the proximal part of the forearm. Where the median nerve is compressed by pronator teres muscle, flexor superficialis arch, or lacertus fibrosus, this condition is known as "Pronator syndrome". In this condition patient may feel abnormal sensations in the area:
Thumb
Index finger
Ring finger
The volar base of the thenar eminence
These area effects because of the involvement of the palmar cutaneous branch of the median nerve. There are more symptoms that show pronator syndrome-like:
Proximal forearm tenderness
Weakness in arm
Fine motors are also effect
Aching pain
EXAMINATION OF PRONATOR SYNDROME
We can examine a patient and confirm whether they have pronator syndrome or not by "Three provocative tests". These three tests are divided according to the causes:
Pronator teres test
Lacertus fibrosus test
Flexor digitorum superficialis test
PRONATOR TERES TEST
The most common cause of this syndrome is compression or entrapment of the median nerve by the pronator teres muscle. Which we can test by following these steps:
Elbow should be flexed
Hold the hand ( by the examiner)
The resistance provided against pronation by the examiner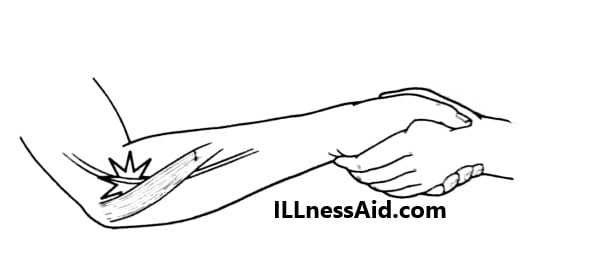 LACERTUS FIBROSUS TEST
This test is for the examine lacertus fibrosus(A fascial extension of the biceps tendon), It shows median nerve is entrapment by this. We can do this test by following these steps:
Elbow should be slightly flexed with a supinated forearm
Examiner will hold the supinated hand
Resistance will provide against the elbow flexion by the examiner
FLEXOR DIGITORUM SUPERFICIALIS TEST
In this test, we examine the flexor digitorum superficialis muscle and identify whether it is the reason for this syndrome or not. This test has the following steps:
Hold the forearm supinated with a slightly flexed elbow
Examiner will hold the middle finger
Resistance will provide against the middle finger flexion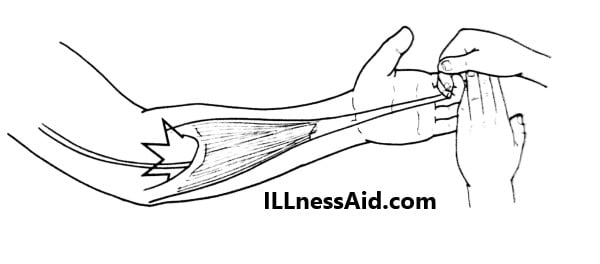 TREATMENT FOR PRONATOR SYNDROME
NON OPERATIVE TREATMENT
We can manage this disorder by a lot of nonoperative management that includes:
You should minimize the activities that resist pronation
Avoid repetitively gripping and squeezing
You can use a long arm splint with the elbow 90 degrees(flexion) and the forearm will be in a neutral position
You can take anti-inflammatory medications and vitamin B (should consult your doctor before following this step)
NOTE: Above are the few conservative management of this disorder, But conservative management is often ineffective in this disorder, and operative treatment is usually required. So you should go to the doctor first and then follow conservative treatment.
AFTER OPERATIVE TREATMENT (REHABILITATION)
0-7 DAYS
Should wear soft, light compressing dressing to allow full elbow, forearm, and wrist motion
7 DAYS
Should start activities that can tolerate
Also begin range of motion of elbow, forearm, and wrist
2 WEEKS
Remove the sutures
Start progressive strengthening and use of the upper limbs
4 WEEKS
You can allow moderate to heavy work
6 WEEKS
You can use your full arm without protection
KNOWING THE PROBLEM, ALWAYS HELP TO SOLVE

ILLnessAid
Thank you for reading this far today we talk about pronator syndrome and its examination, treatment and more. If you have any doubts regarding this you can comment below or go on the contact us page.