Tired eyes are a very common condition, It is due to extreme use of eyes. Most of the time, tiredness of eyes goes away without a problem but sometimes it becomes irritable at that time we should talk to the doctors about this. Tired eyes are also known as eye fatigue or eye strain.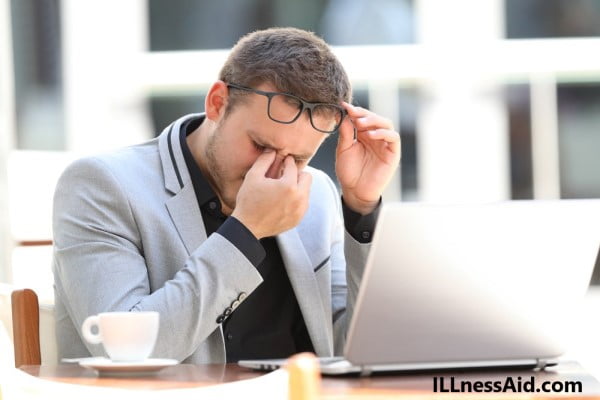 The common signs of tired eyes are:
Difficulty to keep yours eyes open
Pain in eyes
Increased Headache with using eyes
Shows dry or watery eyes
Shows sensitive to light
Can not concentrate
Blurry vision
These symptoms will go away with enough sleep or rest your eyes. But the main question is how can we avoid it so we can do our work properly.
Let's discuss the tips to avoid tired eyes:
ADJUST LIGHTING TO AVOID TIRED EYES
When we are reading in the dim light, It will not hurt our eyes but we can strain or fatigue them. We should give enough contrast to the eyes to avoid it like using soft light. There is also one thing we should remember, we can not use light or a lamp that reflects light directly into our eyes because more contrast will also lead to tired eyes or eye strain.
USE READING GLASSES
If you can see at distance clearly in both eyes but are not able to see clearly at a short distance (reading a book and using a screen) then we should use the glasses that help us to improve vision, reduce the strain on the eyes and eyes will not fatigue easily.
TAKE A BREAK TO AVOID TIRED EYES
Taking a break in every 2-3 hours is very important while doing work. We should get coffee or do some relaxing things, Our main purpose is to give eyes some rest. We are taking a break in the fixed time interval then eyes will not be overused and will not fatigue early.
SWITCH YOUR SCREEN IN DARKEN
Letters and numbers are not just alphabets on our screen. They are tiny light bulbs, which are sending lights directly into our eyes. We should brightness down to adjust contrast that don,t affect on eyes. Take a paper and write your screen contrast level that suits you, It helps you when your contrast setting changes.
EYE MASSAGE TO AVOID TIRED EYES
There is a little massage that helps to avoid tired eyes or eyestrain, the steps of this massage are:
First, take your hands and rub them until they are warm
Then put your palms on your close eyes orbit
At this time you should not press them, just cover them
Then take breathe deep and slowly with visualize the black color
We should do this little massage for 15-20 minutes every day If you want to help your eyes and want to do more work with your eyes.
BLINK YOUR EYES CONSCIOUSLY
We always blink our eyes unconsciously that is a normal thing, but when we are more focused, we do not blink our eyes that much. So we should not forget that thing and blink our eyes consciously. We should always blink our eyes 280-300 times every day like a little massage. Every blink helps us to clean our eyes.
CLOSED EYES AT EVERY POSSIBLE MOMENT
The best way to avoid or relieve tired eyes is to rest your eyes means just close your eyes. We should close our eyes at every possible moment. It is easier than you think we can do this when we do not need to write or read or you are talking to someone on mobile. We just need to give rest our eyes to avoid it, those people are able to use this technique, their eyes feel good and avoid the tiredness of eyes.
EYES ARE THE GEMS OF OUR BODY, WE SHOULD ALWAYS TAKE CARE OF THEM.

ILLness Aid
Thank you, for reading this far. we discuss the topic of tired eyes and how can we avoid it, If you have any queries then comment below or you can also mail us by contact page.