Occupational therapy is an emerging and well stabilize profession globally. It should be known to everyone because we can need it anytime so, today we will talk about the general introduction to occupational therapy.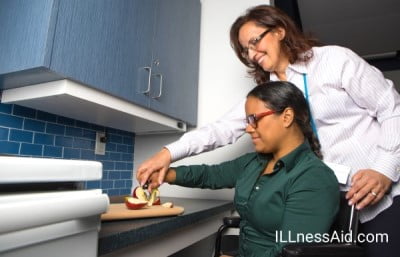 WHAT IS OCCUPATIONAL THERAPY
Occupational therapy is a client-centered and modern health care profession. The main focus of occupational therapy is to enable people to participate in the activities of daily life. Occupational therapy promotes health with the help of modern science for diagnosis, evaluation, education, and treatment of patients of any age.
Occupational therapy is given to patients who show function impairment – physical, psychological, cognitive impairment, development disorder, age-related problems, with the aim to "promote health". OT helps you to make yourself functionally independent and try to adapt your life which you want, need, and expected.
WHAT OCCUPATIONAL THERAPIST DO
Occupational therapists work according to the client and give them a purposeful goal-oriented task. An occupational therapist will never function adequately without the knowledge of medical subjects and methods of assessment. An occupational therapist's essential quality is adaptability because their field is so wide. Occupational therapist service is not limited, They have to do many works like:
Make assessment and intervention of ADL(activities of daily living)
Do Functional analysis
Try play therapy
Use adaptive equipment
Make enviromental modification to enhance
Training with assistive tools
Occupational therapists develop a strategy and create an opportunity to maximize the performance of patients. For this, Occupational therapists use a science-based approach with many steps like:
First make assessment
Plan a goal, It will be short term or long term goal
Implement the proposed intervention
Observe the client while therapy and see how it is going
Modify the intervention based on the performance and changed it, if necessary
Re-assessment, It is a last steps to see result
WHEN GO TO SEE OCCUPATIONAL THERAPIST
Before going to the occupational therapist, You should ask the doctor about it. An occupational therapist can help in problems(any age) like:
Fine motor skills
Cognitive skills
Sensory process problems
Visual skills
Chronic pain
Stroke
Brain injury
Poor balance
Cancer
Spinal cord injury
Alzheimer disease
Multiple sclerosis
Cerebral palsy
Mental health
Severe hand injuries
There are many more diseases or disabilities in which occupational therapists can help. So, You should ask the doctor and then, go if needed.
WHERE YOU GET OCCUPATIONAL THERAPY
You have seen occupational therapy in many places like home, workplace, etc because the occupational therapist has played many roles as a clinical, counselor, diplomat, researcher, rehabilitation director, program director, adviser, academician, etc. You can see OTs (occupational therapists) in many areas like:
Rehabilation department
Pediatric department
Community based department
Geratric department
In Industries
Special schools
Clinic centers
Mental health department
Chronic chare faculty, etc.
OCCUPATIONAL THERAPISTS ALWAYS PROMOTE HEALTH SO BELIEVE IN THEM AND STAY CONFIDENT.
Thank you, reading this far. Today we discuss a general introduction to occupational therapy. If you have any queries related to this or want to give a review about this then comment below or go on the contact us page for contact.