Food is a key factor in our health. Eating healthy food always helps us to keep away from disease and promote health. But eating food for old people is slightly different from our other stage of life because we face a lot of physiological changes that we talk about in the article getting old. These changes can lead us to problems like nutritional deficiency diseases.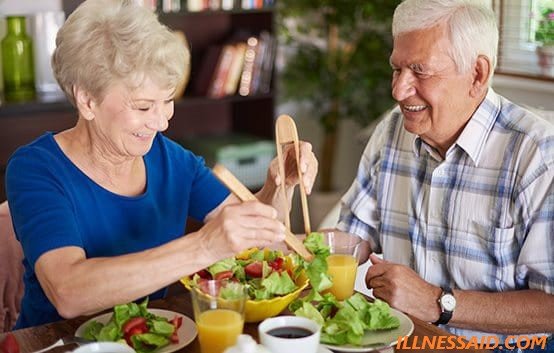 If we are eating the right choice of food, we can prevent and cure nutritional diseases even if we are old. But the question is, what food should we eat and at what time. For understanding this, we will talk in two categories A) Vitamin nutrition food and B) Mineral nutrition food.
Vitamin nutrition food for old people
An adequate amount of vitamins will always help us to protect our health so that we can live long a healthy life. Now we will talk about selective vitamins with food and their relation to the aging process.
Vitamin A FOOD
Vitamin A has a role in maintaining vision and functions like bone development, immunity, growth, cellular differentiation, antioxidants, etc. It refers to both forms- preformed and provitamin. preformed forms are retinols and provitamin are classified as carotenoids. As we grow older, age-related oxidative stress occurs due to deficiency of carotenoids. The vitamin A food for old people examples are :
| | |
| --- | --- |
| PREFORMED VITAMIN A FOOD | egg yolks, milk, fish liver oils, butter, etc. |
| PROVITAMIN A FOOD | red, yellow, orange vegetables like pumpkin, carrots, spinach, kale, etc. |
VITAMIN D

FOOD
Vitamin D is taken by food and sunlight. It has a function in bone health, diabetes mellitus, cardiovascular disease, etc. Vitamin D dietary dependency increases with age because skin synthesis decline with sunlight. As we deficit vitamin D then it leads us to osteoporosis, bone fracture, diabetes, etc. So in old age, we should eat for vitamin D is:
Milk( main source)
Fatty fish, fish oil
Egg yolks
Cereals, etc.
VITAMIN E FOOD
Vitamin E exists in eight forms. Its primary function is antioxidant, it also appears to involve in gene modulation, cellular signaling, etc. Deficiency of vitamin E is rare but when it happens, Aging and chronic disease-related oxidative stress show. Vitamin E can be taken by:
Vegetables oil
Nuts
Seeds
Whole grains, etc.
VITAMIN K FOOD
Vitamin K has three forms(phylloquinone, menaquinone, and menadione). It is involved in blood clotting and bone formation. Studies have found that vitamin K deficiency is increasing in old age due to which bone health effect. For taking adequate amount of vitamin K, we should eat:
Dark-green leafy vegetables like

Collards
Broccoli
Brussels sprouts
Cabbage,etc.
B-COMPLEX VITAMINS: VITAMIN B12, VITAMIN B6 AND FOLATE

FOOD
Vitamin B12, Vitamin B6, and Folate function as coenzymes. Vitamin B12 is very important at an older age because its deficiency causes cognitive decline. For understanding these three, have a look at the table below:
| | | | |
| --- | --- | --- | --- |
| VITAMIN | FUNCTIONS | FOOD SOURCES | DEFICIENCY |
| VITAMIN B12 | Blood formation and neurologic function | Animal products, food fortified | Anemia, cognitive decline |
| VITAMIN B6 | Neurotransmitter synthesis | Bananas, beans, fish, meats, etc | Dementia |
| FOLATE | DNA synthesis, interconversion of amino acids | Orange juice, green leafy vegetables, etc | Dementia |
VITAMIN C

FOOD
Vitamin C is a water-soluble vitamin that has a variety of functions like antioxidant, connective tissue, and neurotransmitter synthesis. The deficiency of vitamin C leads to oxidative stress in old age so we can take Vitamin C food sources by:
Citrus fruits
Strawberries
Tomatoes
Peppers, etc.
Mineral nutrition food for old people
Minerals play an important role in our life. There are two types of minerals major minerals and trace minerals and each category have many minerals, but we will talk only about specific minerals that play major roles in aging.
CALCIUM

FOOD
Calcium's primary function is maintaining the structure of bone and has many other functions like muscle contraction, blood clotting, cellular ionic balance, etc. Calcium deficiency results in osteoporosis, After that bone mass is reduced and increases bone fragility. Osteoporosis is very common in older adults so, we can take proper calcium by eating these foods:
Plain yogurt,non fat
Romano cheese
Milk
Orange juice, calcium fortified
Oatmeal, etc.
POTASSIUM

FOOD
Potassium has a very significant role in our bodies. It has many functions like cellular ionic balance, membrane potential, muscle contraction, vascular tone, etc. Potassium deficiency is very rare because of poor intake. Losses of potassium can increase with heat exposure and exercise because potassium is lost in sweat. With aging, diuretics may increase losses of potassium. Potassium food is:
Fruits and vegetables
Meat
Dairy products
Tea and coffee, etc.
Magnesium food
Magnesium is a primary intracellular cation, which has a role in bone mineralization and is also involved in energy metabolism, protein synthesis, glucose metabolism, etc. Deficiency of magnesium occurs rarely but happens as secondary in medical conditions in old age. Its deficiency can also occur with diuretics. For taking adequate amount of magnesium, we should eat:
Green leafy vegetables
Fruits
Grains
Nuts
Shellfish, etc.
SODIUM FOOD
Sodium is an extracellular cation and its functions are in the maintenance of cellular ionic balance, extracellular fluid volume, plasma volume. In addition, it helps in membrane potential and active transports of nutrients. The deficiency of sodium is associated with hyponatremia. As we grow old, we should low intake sodium amount because it prevents cognitive heart failure and hypertension. Food of sodium is :
Salt
Processed meats like ham, bacon,etc
Snack food with salt like chips, cheese, etc.
NUTRITION FOOD IS ALWAYS IMPACTFUL AND USEFUL. IT PROMOTE HEALTH THEREFORE WE SHOULD ALWAYS FOCUS ON IT, AT EVERY STAGE OF LIFE.
Thank you, for reading this far. In this article, we discuss selective vitamins and minerals in relation to food and aging. If you have any queries related to this, you can comment below or mail us by contact page.