Cuboid syndrome is a possible source of lateral mid-foot pain and it can be difficult to recognize clinically. It is believed that Cuboid syndrome arises from a subtle disruption of normal calcaneal-cuboid congruence and/or arthro-kinematics. This change can develop insidiously or after a traumatic event and is difficult to clinically or with imaging. Thus the diagnosis of the cuboid syndrome depends on patient history, physical examination, differential diagnosis, and a high index of suspicion. Another name for the cuboid syndrome is " cuboid subluxation".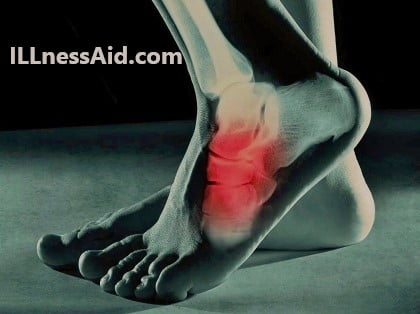 SIGNS AND SYMPTOMS
There is a fairly distinct constellation of signs and symptoms associated with the condition that has been reported:
SUBJECTIVE FINDINGS
Diffuse pain along lateral foot between calcaneal-cuboid joint and 4th/5th cuboid-metatarsal joints
Pain intensifies with activity
OBJECTIVE FINDINGS
Edema
Antalgic gait with pain
Visible depression over the dorsum of cuboid
Fullness on the plantar aspect of cuboid
Pain with cuboid palpation
Ankle and/or foot active and passive range of motion decrease
Pain with passive midtarsal adduction and/or supination
Pain with single-leg hopping and/or heel/toe raises
Weakness and pain with resisted inversion, eversion, and/or plantar flexion
Hypomobility and pain with passive dorsal-plantar gliding of cuboid
CAUSES OF CUBOID SYNDROME
Although the precise etiology mechanism is unclear, the cuboid syndrome is thought to result from a sustained disruption or subluxation of calcaneal-cuboid(CC) joint congruity. Some authors say that CC joint congruity is disrupted when the cuboid is forcefully everted on an inverted calcaneus. The disruption or subluxation, which may be imperceptible by examination, is believed to change normal midtarsal joint mechanics and cause lateral foot pain.
There are many causes that report for a cuboid syndrome:
Excessive body weight
Excessive foot pronation
Improper shoes
Significant increases in exercise intensity
Inadequate exercise recovery
Training on uneven surfaces
Morphology of the CC joint may be a contributing factor to this condition. Folds in the synovial lining between the CC and cubometatarsal joints may be another reason for lateral midfoot dysfunction and pain. These folds have the potential to restrict the joint motion or become impinged.
DIAGNOSTIC TESTS FOR CUBOID SYNDROME
There are currently no definitive diagnostic tests for the cuboid syndrome still, we can use a few tests that we will talk about today. Before you apply the tests you should confirm that your signs and symptoms match. Now let's see the tests:
MIDTARSAL ADDUCTION TEST– During the midtarsal adduction test, the midtarsal joint should passively adduct in the superior-inferior axis(Transverse plane) while the calcaneus should stabilize. This is thought to produce pain by compressing the medial CC joint and distracting the lateral CC joint.
MIDTARSAL SUPINATION TEST– The midtarsal supination test is similar to the previous test except that the clinician adds inversion(frontal plane) and plantarflexion(sagittal plane) to the adduction stress. These triplane movements to the midtarsal joint impart and provoke pain showing a positive test result.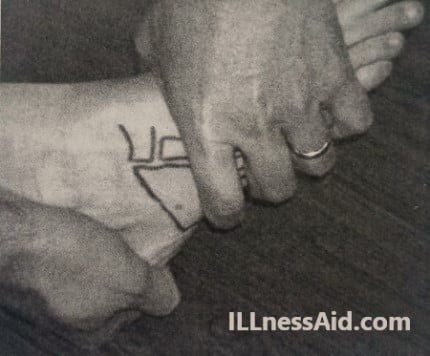 CUBOID SHEAR TEST– For this test, the calcaneus is stabilized with one hand while the other hand translates/shears the cuboid on the fixed calcaneus. If you feel pain then this test shows a positive test result.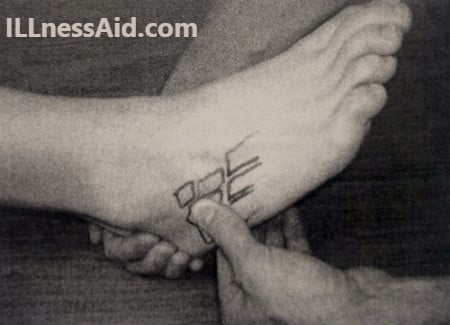 TREATMENT FOR CUBOID SYNDROME
The initial treatment often used for the cuboid syndrome is low-amplitude, high-velocity manipulation of the cuboid. The manipulative techniques are very easy to perform and provide dramatic symptom reduction. Thus manipulation should use after the inspection of the cuboid syndrome. There are two manipulation techniques "Cuboid whip" and "Cuboid squeeze", let's talk about them one by one.
CUBOID WHIP
To perform the cuboid whip, the patient should be prone and the clinician stands at the patient's feet. The clinician will interlock his or her fingers over the dorsum of the forefoot and overlaps his or her thumbs on the affected cuboid( as in figure 1). The patient's knee will flex 70 to 90 degrees to slack the superficial nerve during manipulation and the ankle will be 0 degrees dorsiflexion( as in figure2).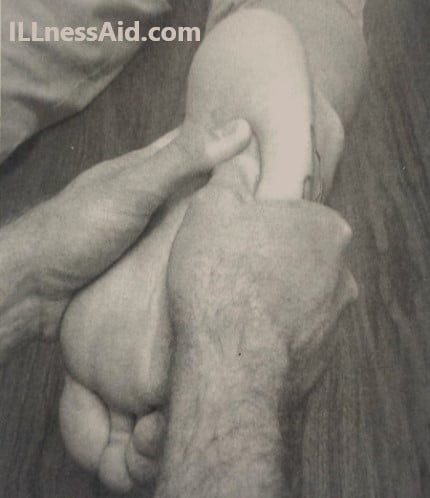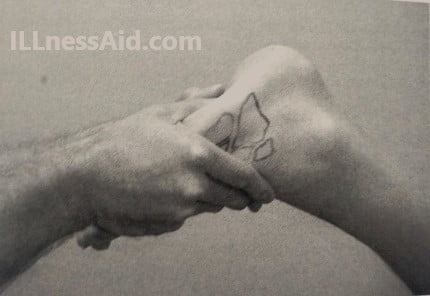 With the patient's leg relaxed, the clinician abruptly "whips" the foot into plantarflexion and inversion while delivering a thrust dorsally with high velocity, low-amplitude( figure 3). A "pop" or shift should hear or feel by the clinician and/or during patient thrust but these are not requisite for favorable treatment response.
CUBOID SQUEEZE
Marshall and hamilton describe a variation of the cuboid whip known as cuboid squeeze. Instead of whipping the foot/ankle, the clinician stretches(slowly) the ankle into maximal plantarflexion and the foot and toes into maximal flexion. When the clinician feels soft tissue relax dorsally, A low-amplitude, high-velocity thrust deliver by "squeezing" the cuboid with thumbs. The cuboid squeeze requires maximal ankle plantarflexion.
AFTER MANIPULATION
Immediately after manipulation, clinical tests should repeat to determine treatment efficacy. Patients who experience partial or incomplete symptom resolution will benefit from additional manipulations. For those patients who experience no relief after manipulation, then the patient will reexamine and another diagnosis should consider.
Stretching the muscles like gastrocnemius, soleus, hamstring, and strengthening the intrinsic and extrinsic foot muscle shown to be helpful in preventing cuboid syndrome. Activities and exercises to improve ankle/foot proprioception are sensible. Oral or injectable anti-inflammatory and anesthetic agents are also beneficial.
DO NOT IGNORE YOUR PAIN, IT CAN BE CUBOID SYNDROME

ILLnessAid
Thank you for reading this far, Today we talk about the cuboid syndrome. If you have any doubts regarding this then you can comment below or go on the contact us page.