Boutonniere deformity involves flexion of the PIP(proximal interphalangeal) joint and hyperextension of the DIP(distal interphalangeal) joint. "It is also known as Buttonhole deformity". This deformity is due to the attenuation or disruption of the central slip and triangular ligament of the extensor expansion on the dorsal side of the finger. In this deformity, the balance of the finger extensor change, leading to fixed volar subluxation(lateral band) and focus of extension force on the distal joint.
ICD-10-CM CODES
M20.021 – BOUTONNIERE DEFORMITY OF RIGHT FINGER(S)
M20.022 – FOR THE LEFT FINGER(S) OF THIS DEFORMITY
M20.029– BOUTONNIERE DEFORMITY OF UNSPECIFIED FINGER(S)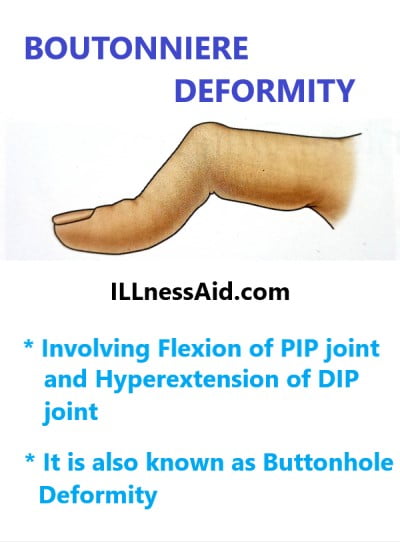 There can be many types of history that lead to Boutonniere deformity like:
Open Injury
Force flexion of an actively extended PIP joint
Closed Injury
Crush Injury
Burns
Infection
Inflammatory
Rheumatoid and other arthritides
Subcutaneous and can have many different histories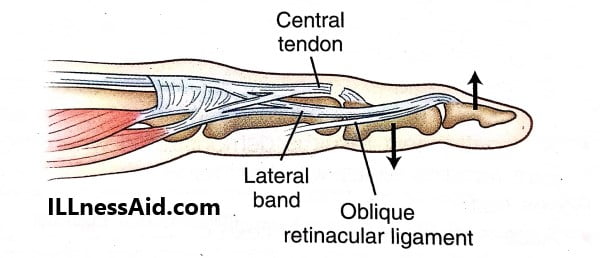 CLINICAL FEATURES OF BOUTONNIERE DEFORMITY
The middle finger Joint is bent and you are not able to straighten it fully
Localized tenderness Present
PIP joint effusion
Swelling and pain occur at the middle joint finger
In radiographs, Fractures and volar subluxations are often seen
Mainly loss of active PIP joint extension and hypertension of the DIP joint
PHYSICAL EXAMINATION TEST OF BOUTONNIERE DEFORMITY
1. ELSON TEST
In this test, ask the patients to bend the PIP joint 90 degrees over the edge of a table
And resist the middle phalanx/middle finger from the extension
This test is positive when the DIP joint goes into the rigid extension( forces distributed to the tendon through lateral bands)
A negative test result shows when DIP remains floppy with this resistance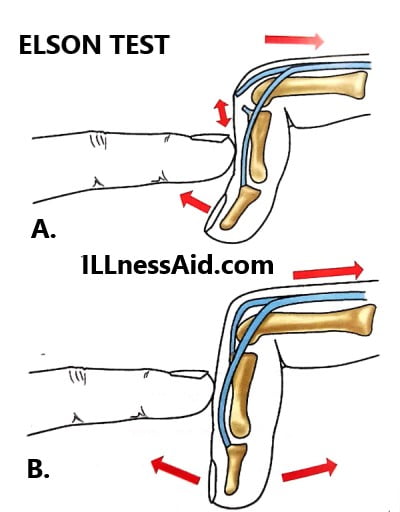 2. BOYES TEST
In this test, we assess the ability of flex DIP with PIP help in extension
For doing this, Ask the patient to flex the DIP joint with the PIP extension
If the patient is not able to flex the DIP joint then this test is positive
This test may not be positive in acute or early setting
NOTE: DIFFERENTIAL DIAGNOSIS
A true boutonniere deformity should not confuse with a pseudo-boutonniere deformity. we can use both special tests for differentiation. In pseudo-boutonniere deformity:
The Extensor mechanism will not affect
Show flexion contracture of PIP joint then allowing DIP mobility
Flexion contracture is due to scarring of the volar plate
TREATMENT WITH EXERCISES
Depending on the severity of the deformity of injury and the flexibility of digits treatments proceed. So go to the doctor first to check your condition. In this condition, A splint will have been given to you that you have to wear all the time for the next 8 weeks. You have to wear a splint at night and at times of risk for 2-4 weeks. This splint helps you to straighten your finger. And also if you have swollen fingers and hands then keep them in the air as much as possible. During wearing a splint you should do these exercises every hour :

Hold the splinted joint to keep it straight.
Slowly bend and straighten the joint(end) as shown in the picture.
Do this 30 times.

Keep the fingers straight.
Slowly bend and straighten the first knuckle as shown in the figure.
Do this 10-20 times.
Do these exercises every hour
Do not remove your splint until your therapist advises you.
Make sure your other fingers are not stiff during exercise
Regularly check your skin condition around the splint
Make sure your splint is fit and comfortable
NOTE: After 8+ weeks you will be advised to remove the splint with gentle exercises. It will help you regain movement. You should contact your therapist if you face any problems regarding this.
TAKING ADVICE FROM THERAPIST NEVER CAUSE A PROBLEM

ILLnessAid
Thank you for reading this far, today we talk about boutonniere deformity and its exercise, examination test, and more. If you have any problem regarding this then you contact us or can comment below.