Chapped lips are a common condition in which your lips dry and crack. If you have a feeling of burn or sting in dry and cracked lips then we can say your lips are chapped. Before talking about remedies for chapped lips let's discuss more about it. Most people think that chapped lips or dry lips happen in the winter only. But it is not true unless you do not take care of lips, or you have a bad habit that can chapped your lips in any season.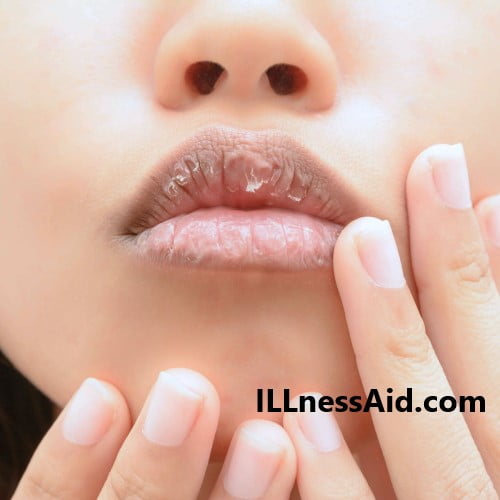 There are many reasons for chapped lips, these are a few of them:
Dry weather
Dry atmosphere in your room
Using irritating lips stick or balm
Too much sun exposure
Not drinking sufficient water
Contact metal with lips
During chapped lips, We face problems like bleeding, stings, burning, cracks, etc. At that time, We are not able to think best & easy remedies for chapped lips. So, Today we are going to discuss the best & easy remedies for chapped lips that will be helpful to you:
USE LIP BALM FOR CHAPPED LIPS REMEDY
Lip balm is good for treating chapped lips. When we use lip balm then It seals off the cracks and provides moisturization. Lip balm is also like a layer due to this, External factors are not able to affect that much on our lips. So before going outside, We should use lip balm for treating chapped lips and we can also use lip balm for preventing it.
DRINK MORE WATER
As we know, water is very important for us. For chapped lips, treatment water plays a major role. It helps to fight against dehydration that leads to moisturizing our lips. So, we should always drink plenty of water that will us in chapped lips.
DON'T USE TONGUE ON YOUR LIPS
Chapped lips are due to the dehydration problem. During this time, We always lick our lips and thought it will moisturize them But it is not true, They moisturize only for a few minutes because saliva evaporates early and leaves your lips dry. So don't lick your lips for moisturizing, It will help you for chapped lips treatment.
DON'T USE SENSITIVE & ALLERGIC AGENTS FOR YOUR LIPS
You should always listen to your lips, If you are sensitive or allergic to your toothpaste or any food that you eat often then don't use them, It harms your chapped lips more or It can also lead to chapped lips If you have healthy lips. During the chapped lips just use a toothbrush with baking soda that helps in chapped lips remedy.
FOCUS ON NUTRITION FOR CHAPPED LIPS REMEDY
Deficiency of B complex vitamins, iron, or zinc can play a role in chapped lips. So we should have a sufficient amount of these nutrients If we want to get rid of chapped lips. We can take these nutrients by food or multivitamin supplement.
| | |
| --- | --- |
| Nutrition | food source |
| Zinc | Oats, crab, mushroom, etc |
| Iron | Boiled soya beam, white beans, etc |
| B complex vitamins | Nuts, spinach, eggs, etc |
GIVE TIME FOR HEALING
The skin on our lips is very sensitive and thin. During chapped lips, It dried and cracked. At that time we should not touch them or bite them because they will not be able to heal properly. So, For chapped lips treatment, we should give them a proper time.
"YOU SHOULD ALWAYS TAKE CARE OF YOUR LIPS, IF YOU FOCUS ON THESE POINTS IT WILL HELP YOU TO BRING YOUR SMILE BACK"
Thank you for reading this far, today we discuss the best and easy remedies for chapped lips. If you have any queries related to this then comment below or message us by contact us page.